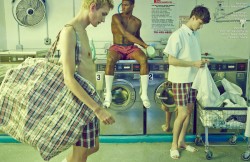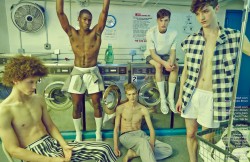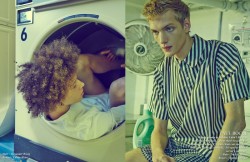 Schön!: Tell us how you got your start.
Paul: I was scouted in Berlin while I was in school outside of there. I was working for an environmental company, writing press releases and stuff. Then I went to Paris for Fashion Week, and from then on I've attended every single Fashion Week.
Schön!: What was the first show you walked?
Paul: Prada, in Milan. It was awesome!
Schön!: What have been some of your favourite experiences so far?
Paul: I don't want to mention names or favour anyone, you know, but you see all kinds of things: you work with actors and great talents, you travel to amazing places, like places that you would never end up going if it weren't for the job. Like I shot in an underwater stage where they shot James Bond movies – it was in the desert. That's the best part of it: the variety of places you see, and the people you work with.
Schön!: Within the context of fashion, what would you say is very beautiful? What makes it special?
Paul: What makes it beautiful is when it's clean. When it comes to fashion, I don't like any unnecessary things. I guess that's because I'm German, you know. I'm into clean cuts and clean colours – a Bauhaus aesthetic. It's special when it serves a purpose.
Schön!: Do you think you will ever be on the other side of fashion?
Paul: No, I'm a terrible photographer – I've done some acting so that's another career path I'm taking. I'm working on several projects: I'll be in a play next March here in New York. I have the lead role. It's called the Hamletmachine by Heiner Müller – it's the second time it's going to be staged in New York, so it's kind of awesome. I'm also working on a project where I'm playing the character of Reiner Maria Rilke, a poet, to be filmed in Paris, with funding from L.A. The Goethe-Institut is involved in that as well. Something I don't want to talk about because it's not set in stone – I just signed with an agent in Berlin – we'll see where that goes because I think that European film and German film is definitely something that is coming back. People might say Europe independent film has died, but I think we're getting out of that hole, and there's great stuff happening . This summer its my objective to find and agent for that and get my foot back into the door in Europe because I've been away for so long.
Schön!: Would you ideally live there?
Paul: No, I want to live between New York and the rest of the world. I think it's the perfect base for me right now. I don't want to give that up.
Schön!: Any fun facts – something no one would guess about you?
Paul: The kinds of things that nobody know had better stay that way – well-kept secrets, you know, I'm sure I have many of them. Oh, I can say that I've been sober for four and half years – I guess that's something a lot of people don't know. I don't like to hide that.
Schön!: Congrats, that's really great. Last question: can you tell me about a recent adventure you went on?
Paul: I was in Idaho for two weeks – I shot three music videos which tied together, so that was quite exciting. We all became really good friends, and my girlfriend was with me, so she has a part in it as well. My friend who shot it – he shoots in film – he shot it in 35mm and it looks like a Coen Brothers movie – guns and horses and good guys and bad guys and kids gone crazy in the desert!
Ребята, он совсем не пьет уже пять лет. Мне бы так Х)
@темы: Interview, Photoshoot